Check Out Our Webinar Series
Check out this 4-part webinar series with national experts and local health departments discussing their work to advance health equity. Each webinar focused on a set of strategic practices that health departments can take to pursue a wall-to-wall transformation of how they work internally, with communities, and alongside other government agencies. Organized by HIP, these webinars were co-sponsored with GARE, NCHE, and NACCHO. Learn more about the webinar series
---
We want to scale up this transformation
This website is structured around a set of strategic practices that health departments can apply to more meaningfully and comprehensively advance health equity. Over and over, more health departments are asking "What are the strategic steps we can take to advance health equity at our health department?" This resource showcases success stories from across the United States to answer this question.
Local health departments are championing transformational change by:
Building internal capacity and infrastructure and taking strategic risks to advance equity

Fostering strategic community partnerships to build power and engage in social justice movements

Working across government agencies to develop shared ownership for health equity
Get to know our case studies
Minnesota Changes the Narrative around Health Equity
The Minnesota Department of Health is changing the narrative around health to focus on opportunities and what is needed to be healthy. Through extensive community engagement and partnerships, various publications, and the creation of the Center for Health Equity, the Department explicitly addresses the social determinants of health, acknowledges structural racism, and advances health equity across all sectors and policies.
Read More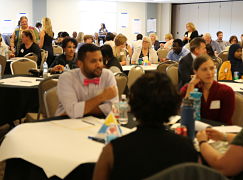 Omaha Metro Develops the Common Quill Health Equity Cohort
The Douglas County Health Department and the Sarpy/Cass Department of Health & Wellness in Nebraska formed the Common Quill, a local cohort of mid-career public health leaders dedicated to advancing health equity. Common Quill members support each other from behind the scenes and in public settings to advance a health equity agenda in health department and cross-sector decision making.
Read More
What underlies our approach?
To systematically dismantle the patterns of othering and exclusion in government practice, we must pursue a wall-to-wall transformation of how local health departments work internally, with communities, and alongside other government agencies.
This inside/outside approach requires health departments to build internal capacity and a will to act on the social determinants of health and health equity. It also requires developing relationships with and mobilizing communities and government to advocate for action on health equity.